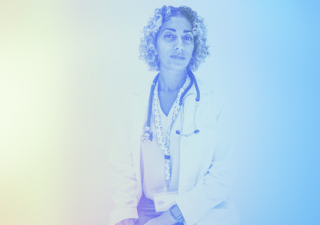 TALKING TO A DOCTOR
Diagnosing and treating ADHD can be complex
There is a lot to examine – from the first patient-doctor conversation, to finding a treatment that meets your child's specific needs.
SETTING UP THE FIRST DOCTOR/CAREGIVER DISCUSSION ABOUT ADHD
The first conversation with your child's doctor about ADHD is not always easy.
There is no one "test" for ADHD, and there is more than 1 type of ADHD to look out for.
Your doctor will generally diagnose the disorder after your child has had issues for over 6 months in more than 1 setting (both at home and at school).
Have you noticed any of the following symptoms over the last 6 months?
Inattention: Difficulty completing tasks or paying attention
Hyperactivity/impulsivity: Restlessness, talking excessively, or inability to sit still
Combined ADHD: A mix of inattention and hyperactivity/impulsivity traits

Use this full checklist to help narrow down symptoms for an easier conversation with your child's doctor.
SWITCHING TREATMENTS VS ADDING ON
If your child or teen is currently on ADHD treatment, are you satisfied with it?
Consider the questions below to help you assess the effectiveness of your child's current ADHD treatment.
Have your child's ADHD symptoms disrupted their social and/or academic activities in the last 6 months?
Has your child experienced negative side effects from their current ADHD medications?
Is it difficult to maintain a consistent treatment schedule with your child's current ADHD medication?
Has your child ever abused or misused their ADHD medication?

If your child continues to struggle with ADHD symptoms, a different treatment may be an option for your child.
Talk to your child's doctor to see if switching to another treatment, or adding to your child's current ADHD treatment, is right for your child.
Learn more about medication treatments for ADHD with this chart